DOWNERS GROVE, ILLINOIS (January 31, 2023) – Gary Niland, a former long-time member of the National Sporting Goods Association (NSGA) Sporting Goods Industry Hall of Fame Committee, passed away on Saturday in Framingham, Massachusetts. Niland was 68.
Niland was a fixture in the sporting goods industry for decades and joined Schutt Sports in late 2005 as a Vice President of Sales. Niland owned his own sales agency, Gary Niland and Associates, and was President of the Sporting Goods Agents Association.
Niland, who courageously battled cancer, was born in Boston and attended nearby Framingham State University. His achievements on the football field led to his induction into the Framingham State Athletic Hall of Fame in 1995. Niland met his wife of 43 years, Jean (Caldaroni) Niland, at the school and remained involved in its football community until his passing.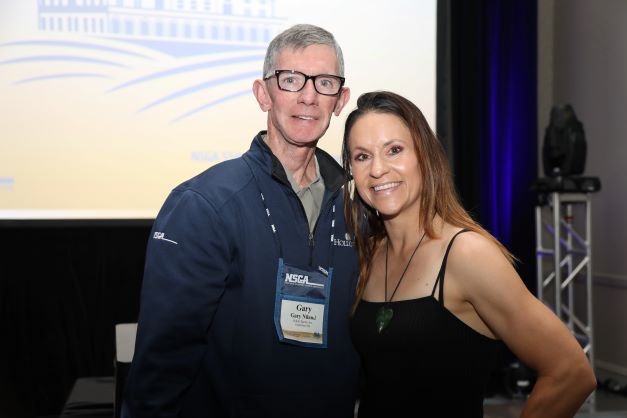 Photo: Gary Niland and Dr. Jen Welter at the 2019 NSGA Management Conference & Team Dealer Summit
His obituary said, "Gary was a man of character and integrity who never compromised his principles as he ascended the corporate ladder, holding various management positions and owning his own sales agency. Gary took the lessons from the football field and applied them to his everyday life — set your goals, work hard to achieve them, do the right thing and treat everyone with respect. He was absolutely respected by all who he came into contact with because he was a straight shooter. He never forgot who he was, he never forgot where he came from and he always took care of his own.
"Summers were spent at Sagamore Beach with his family and closest friends. Gary was easy to love — he made you feel like the most important person in the room and always made a lasting impression. He was a man who loved deeply and never hesitated to let his loved ones know what they meant to him. Gary met the challenges of many health issues over the years and fought them courageously. He was loved beyond words and will be missed beyond measure."
Niland is survived by his wife, four children, five grandchildren and seven siblings. Visitation for Gary Niland is Wednesday, Feb. 1 from 4-7 p.m. at the Chesmore Funeral Home in Hopkinton, Massachusetts. A funeral Mass will be celebrated Thursday, Feb. 2, at Saint Cecilia's Church in Ashland, Massachusetts with a celebration of life to follow at the Warren Center in Ashland. Internment will be held at a later date. In lieu of flowers, donations may be made to the Dana-Farber Cancer Institute (www.dana-farber.org).
Topics
Gary Niland
Schutt
Framingham State University
Sales Agents
Hall of Fame
Football
NSGA