DALLAS, TEXAS (March 8, 2023) – OrderMyGear (OMG), an online store platform for selling custom branded merchandise to groups, announced Mykayla Goodwin as Vice President of Strategy. Goodwin will play a pivotal role in identifying growth opportunities for OMG and guiding company strategy through market research and strategic planning.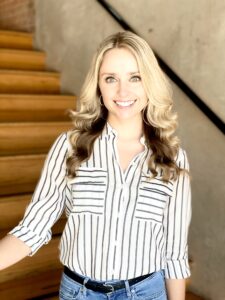 Since joining OMG in 2019, Goodwin has positioned herself as a trusted strategy and product marketing leader within the company. She has built the product marketing function and supported the OMG team in multiple roles, including marketing, product management, and strategy. Goodwin is currently leading the integration of OMG and BrightStores following the recent acquisition, bringing together two market-leading technology platforms in the sporting goods and promotional products space. She will also continue to assist with positioning to ensure prospects and clients understand who OMG is and how the company helps promotional product distributors, apparel decorators, and team dealers grow online sales.
"Mykayla has played an enormous role since she started with us in Product Marketing," said Leonid Rozkin, CEO of OMG. "Her understanding of the industry, our clients, and our solutions is second to none. She was instrumental in helping us identify BrightStores as the ideal acquisition to create the clear leader in online stores. Today she turns her attention to ensuring the success of the integration and will work closely with clients to help us identify ways to continue fueling their growth and make technology easier along the way."
"I am thrilled to take on this new role and continue working with the best team in the business," Goodwin said. "The growth of eCommerce combined with OMG's strong reputation and commitment to providing market-leading technology for selling branded merchandise online makes it an especially exciting time to be in this position. I look forward to collaborating with our talented team and clients as we blaze the trail for online stores and group commerce, together."
Prior to joining OMG, Goodwin led product marketing at Kibo Commerce, an enterprise B2C and B2B commerce solution for retailers, where she was responsible for positioning and messaging, analyst relations, and market intelligence.
Goodwin received an M.B.A. from University of North Carolina Charlotte where she focused on innovation and growth strategy, as well as a B.B.A. in Marketing from Texas State University.
OrderMyGear is a longtime member of the National Sporting Goods Association and supporter of the Management Conference & Team Dealer Summit.
Topics
Mykayla Goodwin
VP of Strategy
Strategy
Product Marketing
OMG
BrightStores
OrderMyGear