TORONTO, CANADA (August 11, 2023) – Global hockey equipment brand Sherwood Hockey announced its official partnership with the No.1 overall pick in the 2023 NHL draft, Connor Bedard. Bedard will play exclusively with Sherwood Rekker Legend sticks and gloves.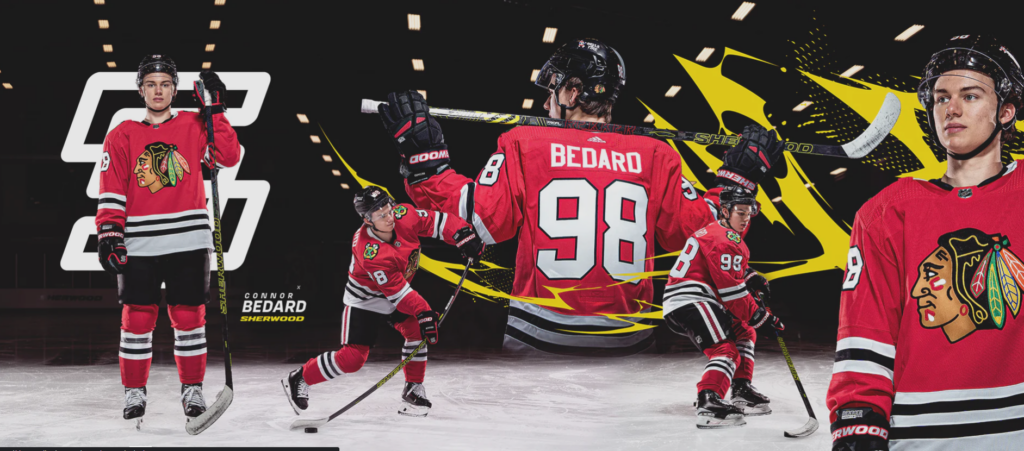 Photo: Connor Bedard for Sherwood Hockey
As one of the most skilled prospects to ever enter the NHL, Bedard requires a partner that can create and build equipment that matches his performance and playing style. The Rekker Legend stick's ergonomic tapered shaft shape and low kick-point is tailormade for players like Bedard who possess quick, deceptive hands and a lightning-fast release.
Bedard joins a dynamic roster of world-class players including Matthew Tkachuk, William Nylander, Alex DeBrincat, Quinton Byfield, Emily Clark, Artturi Lehkonen, Saroya Tinker, Connor Brown and Savannah Harmon.
"We're thrilled that Connor has found his performance match with Sherwood and moreover this goes much deeper than a product fit. Connor shares Sherwood's brand values of creativity, self-expression and individuality on and off the ice – creating a more meaningful relationship," says Brendon Arnold, Associate Vice President, Brand Management, Sherwood Hockey.
"I'm really excited to be joining the Sherwood team," says Connor Bedard, 2023 NHL Draft No. 1 Overall Pick. "Since I started working with Sherwood to develop hockey equipment that I felt could improve my game, I have been really impressed with their approach, expertise and dedication to building the best gear. They are doing a lot of cool things around the sport I love and I'm proud to be a part of it."
In 2020, Sherwood returned to market with a new brand aimed at resonating with the next generation of hockey players while challenging the conventions of an otherwise traditional sport culture. This has been accomplished through athlete partnerships, its enhanced product development capabilities and by executing strategic product collaborations with Disney, OVO, Staple Pigeon and Better Gift Shop.
"Our partnership with Connor Bedard is a key step in the continued re-invention of the Sherwood brand. Since we acquired Sherwood in 2018 and re-launched the brand in 2020, we have been focused on building credibility with the next generation of hockey players who, like us, can't wait to see what Connor does on the ice supported by outstanding Sherwood products," said Bobby Singh-Randhawa, SVP, Consumer Brands, Canadian Tire Corporation, Limited. "In addition to being a great example of the progress we've made with Sherwood as a brand, this partnership also signals our intention to be a greater force in the hockey market going forward."
Topics
Lets Go Hawks
Lets
Go
Hawks
Sherwood Hockey
Conor Bedard
Sherwood Rekker Legend
Blackhawks
Stanley Cup
Sticks
Gloves
NHL