TORONTO, ONTARIO (December 6, 2022) – U.S. hockey customers witnessed the unveiling of a new, modernized brand identity from Source for Hockey stores with the start of the hockey season this year.
"The new Source for Hockey brand was born from customer research and from the need to satisfy the unique needs of our U.S. retail members – who exclusively sell hockey product. We wanted to ensure that the new branding built upon the brand identity established in the Canadian marketplace with Source for Sports, but catered to the U.S. needs," said Brad Hause, President of Sports Distributors of Canada (SDC).
Source for Sports and Source for Hockey stores are part of SDC, which is North America's largest hockey retail buying group. SDC, the National Sporting Goods Association (NSGA) and the Hockey Dealers Association (HDA) formed a collaboration in 2013 to give U.S. hockey retailers the opportunity to participate in a buying group. The U.S. group has grown to more than 40 owners with 74 locations.
This brand transformation includes a new brand logo and tagline – "WE FIT YOUR GAME" – that is featured throughout all marketing channels, in addition to new store design standards and a new Source Exclusive collection of hockey accessories.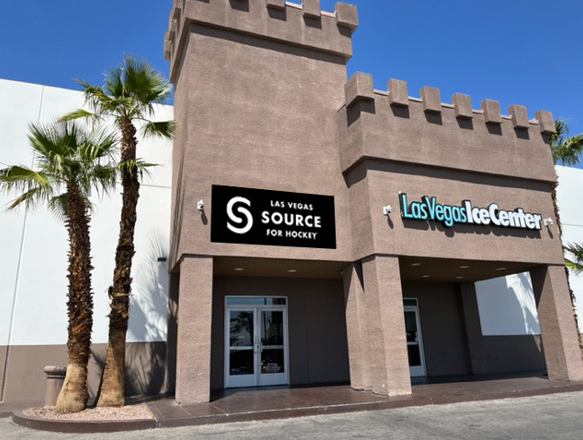 "It has been incredibly exciting to witness the transformation of our dealers' stores across North America, as they incorporate the branding updates through new signage and other enhancements to their store exterior and interior," Hause said.
The network includes more than 200 stores in Canada and the U.S., owned and operated by member partners. For more than five decades, the Source for Sports' knowledgeable and community-minded store owners have equipped customers with the sporting goods they need to do the activities they love with confidence. The cornerstone of each store's success is personalized service delivered by expert staff.
Launching the New Brand Positioning and Identity
"We learned through consumer research that what really resonated with hockey families is our belief that when it comes to sports, no two players are the same," said Donna Finelli, Chief Marketing Officer, Source for Hockey. "We are uniquely positioned to help customers find the gear that is right for them – because of our commitment to highly personalized service combined with our expertise. We brought this to life with a new tagline, a reinvention of the brand identity, new brand imagery and creative that kicked-off the hockey season."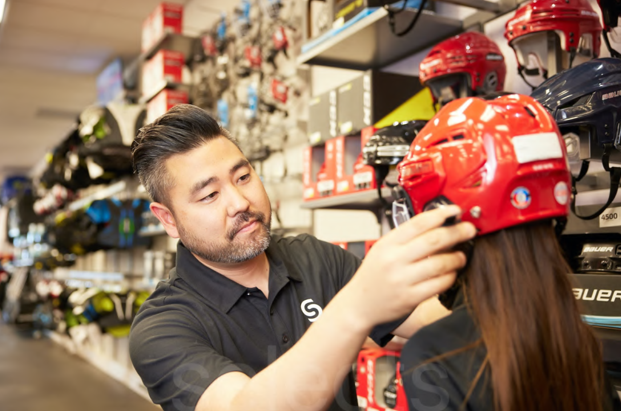 New Source Exclusive S – HOCKEY Collection
To reinforce the new identity, Source for Hockey dealers launched a collection of high-quality hockey accessories, including base-layer garments, hockey bags and a broad selection of essential hockey items, to satisfy the needs of all levels of players. The collection features the new iconic "S" graphic and is available exclusively at participating Source for Hockey locations across the country.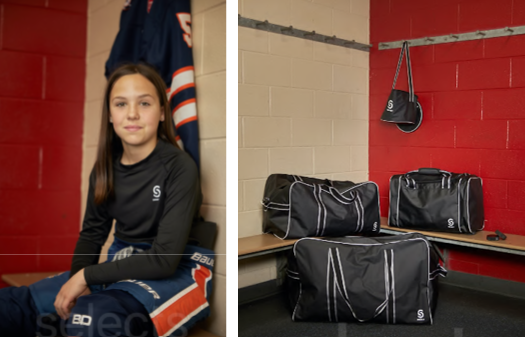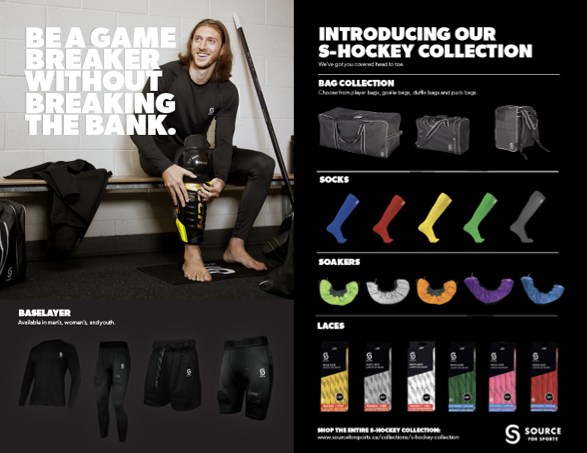 About Source for Hockey
Source for Hockey™ is part of Sports Distributors of Canada (SDC), a North American buying group with over 250 stores in Canada and the U.S., including Source for Sports and Source for Hockey (both sporting goods division) and Source for Adventure (outdoor division). Source for Hockey and Source for Hockey Authorized Dealers are part of a sporting goods retail brand with 74 locations across the United States. Source for Hockey combines the buying and marketing power of a national brand with the local flavor and service of stores that are independently owned and operated by members of the local community. www.sourceforhockey.com
Topics
Source for Hockey
S-Hockey Collection
Sports Distributors of Canada
Source for Adventure
Socks
soakers
Laces
Bag Collection
SDC