COLORADO SPRINGS, COLORADO (April 19, 2023) – USA Hockey and Sense Arena, the world leader in cognitive virtual reality hockey training, announced a new multi-year partnership making Sense Arena the Official Virtual Reality Training Tool of USA Hockey.
Sense Arena's groundbreaking VR technology provides a cutting-edge off-ice tool that is specifically engineered to enhance read-and-react skills and cognitive performance for skaters and goalies. Compatible with the Meta Quest 2 and standard hockey equipment, Sense Arena allows hockey players of all ages to train in confined spaces and non-traditional environments, and serves as a valuable low-impact training tool for players rehabbing injuries off the ice.
As part of the agreement, the Sense Arena company logo was featured on Team USA helmets during the IIHF Under-18 Men's World Championship that from April 20-30 in Switzerland.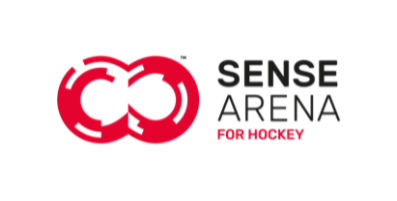 Additionally, Sense Arena will have the opportunity to educate and provide demonstrations to USA Hockey players at live events such as the Chipotle-USA Hockey Youth National Championships, Level 5 Coaches Symposium, and the BioSteel Player Development Camps. Furthermore, Sense Arena will also receive visibility through USA Hockey media channels, including USA Hockey Magazine.
"We're excited to welcome Sense Arena to our growing list of corporate partners," said Pat Kelleher, executive director of USA Hockey. "It's terrific to be engaged with an innovative company like Sense Arena which is focused on utilizing technology to help players become better athletes and reach their full potential."
"Sense Arena is passionate about growing the game of hockey and we share USA Hockey's mission of helping shape the next generation of hockey players," said Sense Arena CEO Bob Tetiva. "I'm thrilled that our partnership will allow us to introduce the vast benefits of cognitive VR training to hockey players of all ages across America."
"As someone who spent my youth developing under the USA Hockey model, I have seen firsthand how the organization helps players grow the skills necessary to be the best they can be," said Andrew Alberts, former NHL defenseman and U.S. Men's National Team member and current director of hockey player development for Sense Arena. "It's an honor to help bring our cognitive training tool to such a prestigious organization."
Throughout the partnership, USA Hockey national staff members and groups of USA Hockey players will collaborate with the Sense Arena team to create and produce drills simulating game and practice scenarios, which will be integrated into Sense Arena's VR training platform. Additionally, within the Sense Arena platform, users will now have the option to train alongside players wearing USA Hockey uniforms.
In addition to becoming The Official Virtual Reality Training Tool of USA Hockey, Sense Arena will also have the designation as an Official Partner of USA Hockey.
ABOUT USA HOCKEY
USA Hockey, established on October 29, 1937, and headquartered in Colorado Springs, Colorado, provides the foundation for the sport of ice hockey in America; helps young people become leaders, sometimes Olympic or Paralympic heroes; and connects the game at every level while promoting a lifelong love of the sport. USA Hockey is more than a million strong, including players, coaches, officials and volunteers that span all 50 states. The National Governing Body for the sport in the United States, USA Hockey has important partnerships with the NHL, United States Olympic and Paralympic Committee and International Ice Hockey Federation. For more information, visit usahockey.com.
ABOUT SENSE ARENA
Sense Arena is headquartered in Prague, Czech Republic, and has North American offices in Tampa, Boston, and Whitby, Ontario. Launched in 2018, Sense Arena is the world leader in virtual reality sports training and offers state-of-the-art platforms for ice hockey and tennis players. The company's ice hockey technology is used by more than 30 professional hockey teams – including five NHL teams – 14 NCAA schools, and youth hockey organizations across the globe, with more than 1.5 million drills conducted. For more information on Sense Arena, visit SenseArena.com
Topics
Goalies
USA Hockey
Sense Arena
Training
VR Technology
Hockey Players
Skaters
Hockey
Helmets